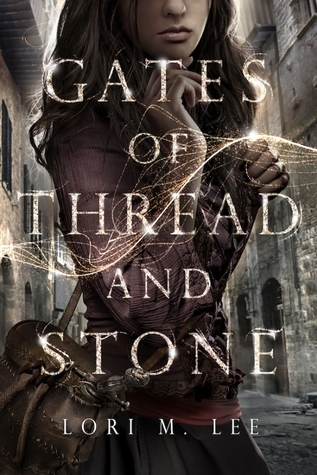 Blurb from Goodreads:
In the Labyrinth, we had a saying: keep silent, keep still, keep safe.

In a city of walls and secrets, where only one man is supposed to possess magic, seventeen-year-old Kai struggles to keep hidden her own secret—she can manipulate the threads of time. When Kai was eight, she was found by Reev on the riverbank, and her "brother" has taken care of her ever since. Kai doesn't know where her ability comes from—or where she came from. All that matters is that she and Reev stay together, and maybe one day move out of the freight container they call home, away from the metal walls of the Labyrinth. Kai's only friend is Avan, the shopkeeper's son with the scandalous reputation that both frightens and intrigues her.

Then Reev disappears. When keeping silent and safe means losing him forever, Kai vows to do whatever it takes to find him. She will leave the only home she's ever known and risk getting caught up in a revolution centuries in the making. But to save Reev, Kai must unravel the threads of her past and face shocking truths about her brother, her friendship with Avan, and her unique power.
4 stars
So lots of my friends didn't like this one, but I felt it was a good, solid read and a great start to a series. I still am not certain if it is a fantasy or a dystopian or a little of both. I understand there is magic, but there were so many references to a previous society and a collapse that I was wondering if we were supposed to assume that it was a dystopian. The supernatural elements in the form of immortals was done well. I really felt that the world that was created was well thought out and incorporated these elements seamlessly. I wanted more to do with the gargoyles although they reminded me of mockingjays - man messes with animal genes and gets a hybrid which is left loose in the wild. I am hoping that there will be more world building in the next installment so we can get a chance to explore the wilderness a little more.
I really enjoyed a story that didn't focus on the romance. Too many times the characters are in a life and death situation when the protagonist notices how hot the other person is. Big turn-off for me! I need my heroines to be level-headed and smart. Kai's focus (and rightfully so) was on her mission to get her brother back. She didn't allow an attraction to distract her from that. Now, that is not to say that there wasn't a romance - there was. It just didn't take precedence over rescuing her brother.
I really liked this one, and I am looking forward to the next one. I am having a hard time lately of remembering what has happened in the previous books when I read a sequel. Fortunately someone pointed me in the direction of Recaptains at
http://recaptains.blogspot.com/
. These guys are awesome!