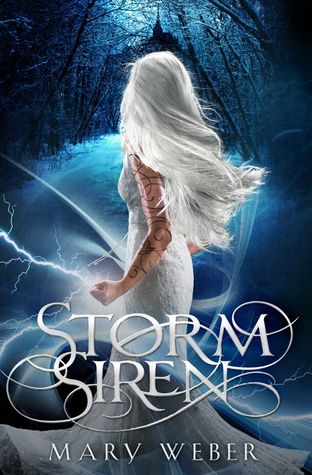 Blurb from Goodreads
"I raise my chin as the buyers stare. Yes. Look. You don't want me. Because, eventually, accidentally, I will destroy you."

In a world at war, a slave girl's lethal curse could become one kingdom's weapon of salvation. If the curse—and the girl—can be controlled.

As a slave in the war-weary kingdom of Faelen, seventeen-year-old Nym isn't merely devoid of rights, her Elemental kind are only born male and always killed at birth — meaning, she shouldn't even exist.

Standing on the auction block beneath smoke-drenched mountains, Nym faces her fifteenth sell. But when her hood is removed and her storm-summoning killing curse revealed, Nym is snatched up by a court advisor and given a choice: be trained as the weapon Faelen needs to win the war, or be killed.

Choosing the former, Nym is unleashed into a world of politics, bizarre parties, and rumors of an evil more sinister than she's being prepared to fight . . . not to mention the handsome trainer whose dark secrets lie behind a mysterious ability to calm every lightning strike she summons.

But what if she doesn't want to be the weapon they've all been waiting for?

Set in a beautifully eclectic world of suspicion, super abilities, and monsters, Storm Siren is a story of power. And whoever controls that power will win.
5 stars
I have to admit something - I am terribly prejudiced. Well not when it comes to important things. My experience with Christian publishers makes me want to automatically reject anything from the Christian sector. Don't get me wrong, I am a Christ follower - I just think that the quality of writing, plotting and characterization is lacking in the Christian publishing world. I was extremely excited for this book, and then I found out it was published by Thomas Nelson. I began the book prepared to DNF it. But what I found was truly one of the best books of the year. I was surprised, delighted, and I think I giggled a little bit over how good this book was. It had everything that makes a great book. I loved all of the characters - well except for the bad guys. Mary Weber sets up the ending beautifully, weaving an intricate web that culminates in the last few chapters. There is not a scene wasted. I was caught by surprise on a few of the twists, but the ending oh that ending. Ms. Weber, that really wasn't nice. How do you expect us to wait another year?
I loved how Nym struggled with her gift/curse. She is vulnerable and has an active conscious which makes for a lot of internal conflict. Watching her wrestle with the killings made her relatable. And even though she is a slave, she still has a backbone. She is not helpless, nor is she so tough that she thinks she can do it on her own. She was the right balance.
There are several key characters that were well done. Colin, Breck and Eogan complete the ensemble and make the world richer and more fleshed out. Sometimes the minor characters are sacrificed for the main character, but that is not the case here. Each character is drawn as if from a real life person.
The world building was phenomenal, and it was doled out bit by bit as you needed to know things. I hate when a book dumps all of the information about a fantasy world at once. This book slowly revealed the information and made you want more.
I loved this book, in case you haven't been able to tell from my review. I would highly recommend this to anyone who loves fantasy with great characters.
Completely clean as far as language and sex. There are some violent moments.