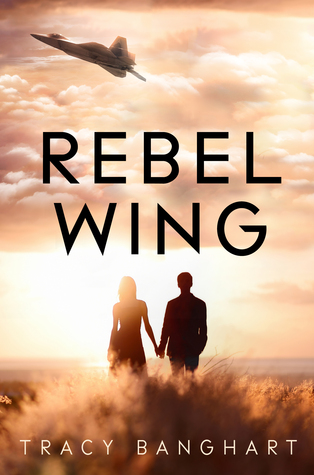 Blurb from Goodreads:
The Dominion of Atalanta is at war. But for eighteen-year-old Aris, the fighting is nothing more than a distant nightmare, something she watches on news vids from the safety of her idyllic seaside town. Then her boyfriend, Calix, is drafted into the Military, and the nightmare becomes a dangerous reality.

Left behind, Aris has nothing to fill her days. Even flying her wingjet—the thing she loves most, aside from Calix—feels meaningless without him by her side. So when she's recruited to be a pilot for an elite search-and-rescue unit, she leaps at the chance, hoping she'll be stationed near Calix. But there's a catch: She must disguise herself as a man named Aristos. There are no women in the Atalantan Military, and there never will be.

Aris gives up everything to find Calix: her home. Her family. Even her identity. But as the war rages on, Aris discovers she's fighting for much more than her relationship. With each injured person she rescues and each violent battle she survives, Aris is becoming a true soldier—and the best flyer in the Atalantan Military. She's determined to save her Dominion . . . or die trying.

This is a new release of the previously self-published title Shattered Veil.
4.5 stars
The shift in cover art and title was a great move. The second cover really gives a better feel of what the book is about. The first cover was enticing, but it didn't really scream sci-fi book with a really cool MC who flies. I think the second cover will garner a much more devoted fan base. And this book deserves it. I found it to be really well written and engaging. I loved watching Aris learn and mature and grow into her own person. I really hope there will be more books set in this world. I am a map person so I would like a map next time too. Not that I have any say, just sayin'...
The one drawback to the books was the love affairs. They were too easily formed and dissolved. I need to see that a character is going to be constant and not distracted by another person while they are in a committed relationship. Just because things are hard, and you don't get to see each other, doesn't mean you form attachments elsewhere.
I felt this book was full of really strong women. Galena was my absolute favorite character. I really would like to read more about her. I found myself looking forward to her chapters. Her romance was tender and sweet even if it was full of heartache. But again we have a man who is promised to someone else falling in love with Galena.
I would have expected a book this good to be picked up by a major publishing house (that sounds incredibly snobbish to self published works, but I haven't had much luck with those), and I feel that the author will be putting out more quality work. I will be waiting to see what is next.